Hi Friends!
Here's some of the inspiring links from last week.
I hope you'll read through the post for a message I have following this week's features.
I absolutely
adored
this table from
Emily's Upcycled Furniture
!
The color and especially the stenciling really make this a unique piece. It has me looking at our little round table in a new way :)
Ranger 911
had some amazing finds on her vacation. I especially love the "find of the day" as she put it! I'd be pretty excited about it too!
Fab Rehab Creations
found this amazing little table. I can't believe how much she got it for!
Her story about her GW stalker cracked me up too.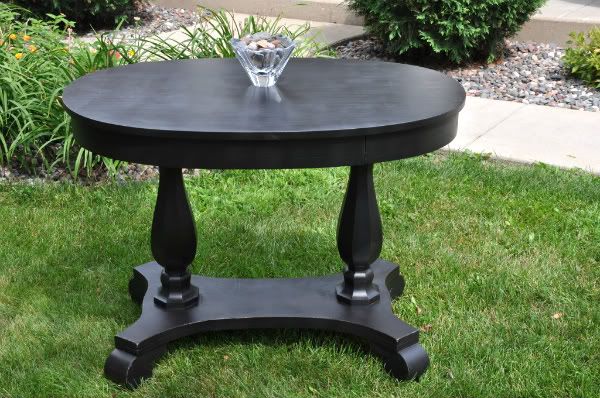 This is a little bittersweet- I am putting Transformations and Treasures on a hiatus. I don't want to say it's completely over, but for now I need to stop hosting.
I have been having a lot more trouble making the rounds to visit all the party goers, and I feel pretty lame about that. Life has just gotten too busy for me to devote the time necessary for being a good host.
Shortly after I started hosting T & T, all the linky tools decided it was time to subscribe (pay) to use their services. While it's not an exorbitant amount, it does add up. It takes alot of effort to grow a party- both on my part and for those who link back to the party to show others where they are linking to.
My lack of time, and being a little discouraged with "party crashers" aka, people who are habitual non linker backers -for lack of a better term- also came into play for my decision.
I don't mean to guilt any of you who were so wonderful at participating and linking back; it was a handful of others.
Again, I hope to resume this party in the future if time allows, but I want it to be at a better time for me.
Thanks so much to all of you who faithfully attended!
I'll let you know if and when we resume Transformations and Treasures!
*mwah!* xxoo